Its March and the Festival of Colors, Holi is here. For most desis in the US it isn't a really big occasion. Back home however Holi means a BIG DEAL. The day starts out with a puja and then a meeting of families and relatives and then us kids headed out to the neighborhood for some fun with colors and water.
The last holi however I was in Rolla. We did celebrate there as well with colors and water (Schuman Lake). However it was quite freezing as it had snowed the day before and most of us were out wearing several layers and trying to enjoy as much as we could. The colors were brought from St.Louis as were several other food items as well. After we had finished our playing and the cleaning, it was time for some food. There was a sumptuous spread prepared by the student volunteers completely. There were even fellow American students who had come to join us, desis in our holi festivities. It felt great that even though we were away from the festivities back home there was still enough to keep us occupied in Rolla, the middle of nowhere.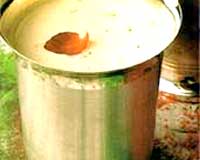 In India all us friends used to gather together and roam the neighborhood stalking anyone who strayed in our paths. By the end of it all however when we did look in the mirrors then all we could make out was a shape that resembled ourselves in some ways and probably a ton of assorted colors everywhere else. There were several people though that had a major fanatical phobia of colors and we used to take delight in dragging them out of their respective houses and totally plastering them all over. When we finally made our way back home after a really tiring session of roaming and loafing around we sat and hogged as much food as our families and others could prepare.
When we had finished with the food sometimes we also went out for another round of colors and fun. It also happened that we were pretty much the only ones left out in the streets by late evening. :)