vitriolic - harsh or corrosive in tone; "an acerbic tone piercing otherwise flowery prose"; "a barrage of acid comments";
We have always viewed television shows in India where the hosts are sweeter than honey.(Anu Kapoor, Pallavi Joshi and several other characters come to mind.) Some years ago before Simon Cowell came into the scene there was a show which originated from the most 'propah' place of all,London. BBC had started a new game show called '
The Weakest Link
'. Anne Robinson, the host wasn't exactly sweet and sugary and most contestants on the show hated her. The show however became a hit with viewers because mainly people liked to see someone else being ridiculed on national television.
Now obviously (being inspired) TV channels in India started their own version of the show called '
Kamzor Kadi Kaun
' (KKK) and the host over here now was Neena Gupta. The show was designed as an exact copy of the original BBC program along with the attitude of the host as well. Initially the show ran for some time but then it was soon shelved.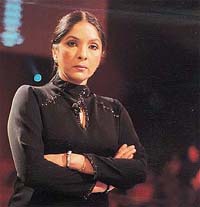 Around the time that KKK was meeting its demise another show was coming up on air, KBC. Soon KBC became a household name and the Big B was back with a bang. This now brings me to question why does Indian society frown upon rudeness and harshness on the part of the host. I mean c'mon even Big B must have lost his cool sometime . It would have been interesting to see how much KBC would have run if the host was all harsh and rude to the contestant. I suppose even if the whole Bachchan/Yashraj clan were hosting the show still it would have been a damp squib on the ratings scale and advertisers would soon have pulled out if the show wasn't a hit with the evening familywala viewer.
Simon Cowell on the other hand from his stint in
American Idol
is quite popular in the US of A. Its very true actually that there is no such thing as bad publicity.(especially when you are in the US.) He has pretty much told contestants off in the most blunt and rudest possible ways. India is also catching up though now to Mr.Cowell. If you happened to catch the latest MTV roadies auditions you would have seen one the judges,
Raghu Ram
and his
scathing comments
to the future bunch of roadies. Also there have been instances when
contestants have told the duo(Raghu, Nikhil) off too.
It does prove though that audiences do want to see people taking it out on each other. (The auditions seem to be a bigger draw for most people rather than the actual roadies show itself.)