There is one striking scene about 'Swades' which defines the movie in its entirety. Its the
'cup of water scene'
. This scene delivers the whole theme behind not just the movie but the entire system. The reason why this is because SRK is experiencing it for himself rather than reading about it in some common newspaper. We are equally moved because without saying a word we can feel what he is going through at that stage.

But this post is not about the movie. This post is about what SRK experienced during that moment.
The only way to actually experience something is to go do it yourself. SRK was a traveler here who was returning back to the village. While on the journey back he saw for himself what the people at the grassroots were facing.
Most of us travel with elaborate plans and everything chalked out right upto the end. Yes this does give one a good, safe view of the trip but also alienates us from something that maybe happening on the extreme fringes of the place which most tourists are aware of. For example some of the best delicacies are found in the bylanes and roadside shacks in Mumbai rather than in the fanciest of restaurants. You get to meet several interesting people there as well. And to really talk in 'Bambaiyya Hindi' you need to talk with its people who travel in the locals and eat the roadside
vada paav
,
chicken fried rice.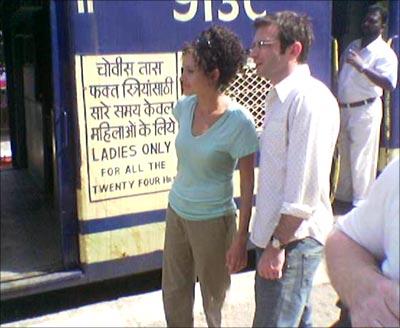 Above is a pic courtesy of rediff, Mrs.Pitt boarding a local from Charni Road to Churchgate. Now thats what I call trying to be ' Lara Croft'. If she did something like this during peak hours then she probably deserves the title of the biggest action star since Bruce Willis in Die Hard.
Btw on a closing note. If you see 'Swades' closely there is a strong influence of water in the whole movie. It starts with SRK giving a talk in NASA about the dangers of global precipitation, his consuming a load of bisleri initially, the cup of water scene, SRK putting his feet into the water for the first time and finally diving headlong into the water tank.